Centennial Station Gazebo
(Last updated: May 19, 2022).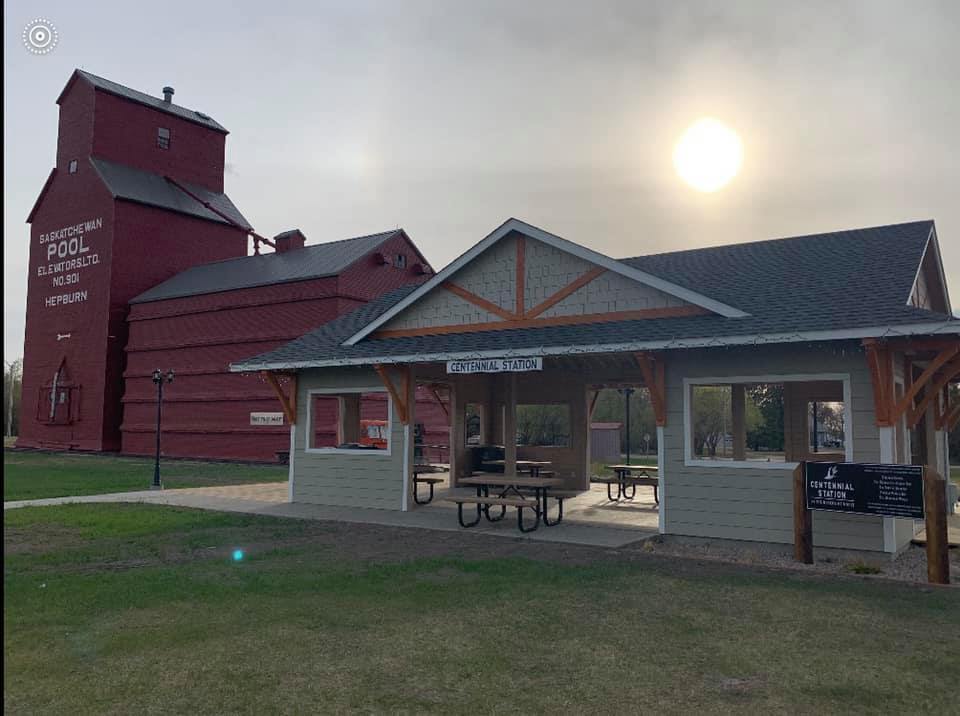 COMING UP SOON! Museum Season Opens - May 21-September 3, 2022
CONGRATULATIONS Centennial Park Wins Award!
*View all 2021 SPRA Recognition Awards: https://www.spra.sk.ca/programs-services/awards/
*View Hepburn's Award for 2021 Parks & Open Spaces: https://youtu.be/kJAnLTrGneQ
The newest addition to the Museum of Wheat grounds has all the charm and nostalgia of a train station found on the prairies when trains were a main form of transportation. Step onto the boardwalk and travel back in time. You can almost hear the train rolling down the track and the voices of excited family welcoming their loved ones home. Bring your picnic basket, enjoy the charm, and let your imagination take you on a journey.
The construction of Centennial Station Gazebo was made possible by legacy grants from the Hepburn Co-op Board and Department of Canadian Heritage, as well as community member donations and fundraisers. Thank you to Matrix Constuction for the concrete work, Warren Jeschke Custom Woodworking for the design and construction, Cori Ann Lund of Cal's Signs & Designs for signage, and the many volunteers who came out to help bring this project to life.
The Grand Opening of the Centennial Park Project, including the Centennial Station Gazebo, was held on Saturday, September 11, 2021, in conjunction with the Museum of Wheat's Annual Threshing Celebration. The event began with 10:30am with threshing, followed by fundraiser BBQ and bake sale, grand opening program, outdoor concert with Donny Parenteau, cake and coffee time, and museum tours. The annual Light the Night Event was held on December 2, 2021. Into the Elements Outdoor Adventures Program is using the Station regularly as a meeting place.
The Hepburn Centennial Station Gazebo is intended for public use. Users are expected to abide by the following guidelines to help maintain this beautiful facility, so all residents can enjoy it for years to come.
First come, first serve.
No littering.

No fires.
No overnight stays.
No use of tacks or tape on the building.
If signage is required, please do not affix to the building.
No driving or parking on the grass. Parking areas are designated at Railway Street parking lot, West Railway Street parking lot, and angle parking along Main Street.
Clean up all items, and wipe tables.
Alcohol and smoking are not permitted.
Thank you for your participation in keeping this space beautiful and usable by everyone.