Winter Fest Weekend
(Last updated: May 25, 2020)
Celebrating WINTER IN HEPBURN Since the Year 2001!
*Hepburn Parks and Recreation Board is so grateful that we could all be together for this Community Festival. Thanks to all who helped, attended, and sponsored the weekend. See sponsor list on page 4 of the SCHEDULE.
*Next Winter Fest is tentatively set for March 5-7, 2021.
WEEKEND SCHEDULE: Click here to view the full detailed weekend schedule.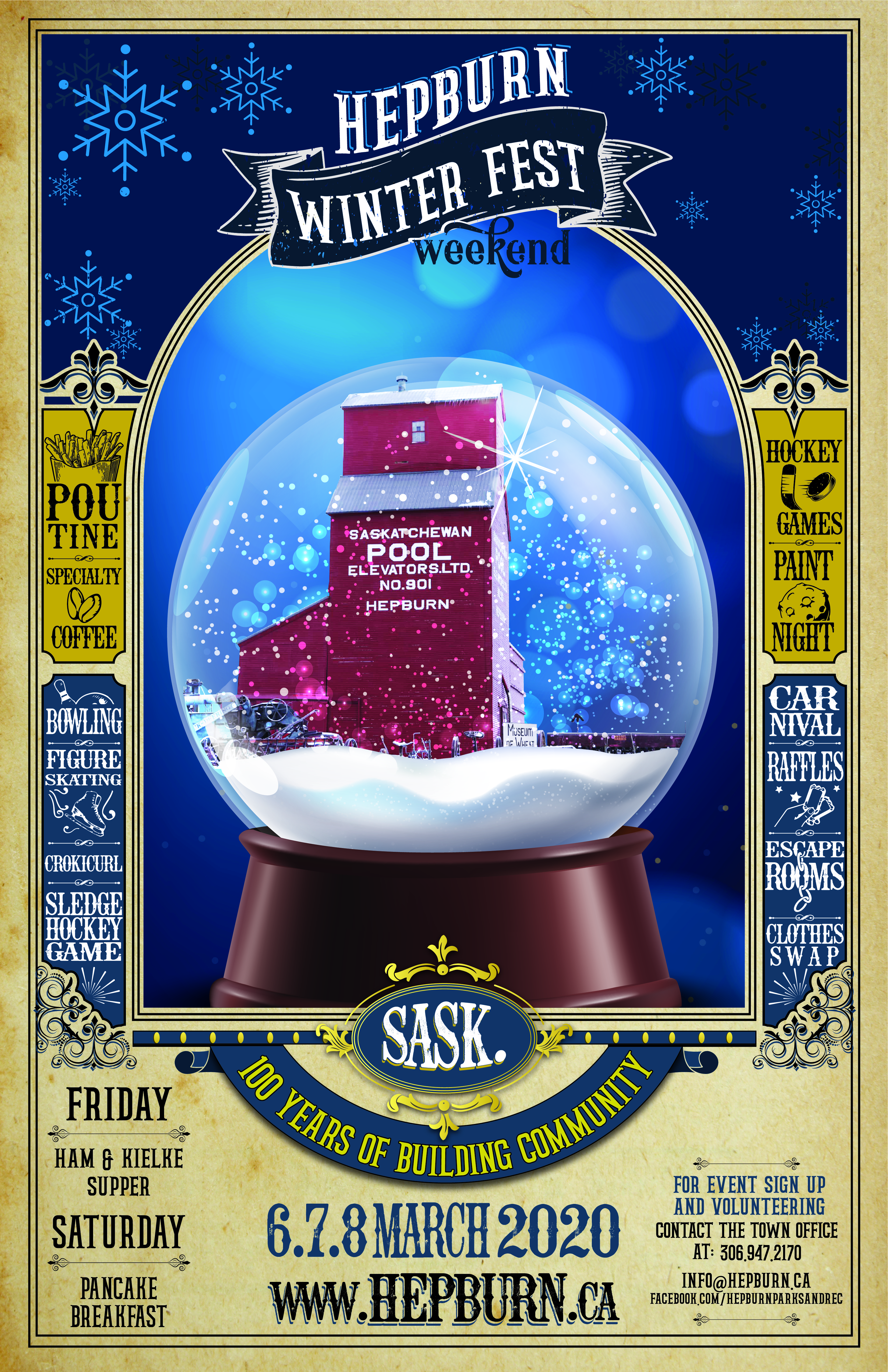 March 6-8, 2020
UPDATES coming regularly between February 24-March 6!
POSTER is out and around town!
Sign-up is required for items marked with a * including Kaiser Tournament, Escape Rooms, Paint Night, Volunteering, etc.
Register for events & volunteering at info@hepburn.ca.
Last Year's Schedule (2019) – Winter Festival Schedule
FLYER will be available on WEDNESDAY MARCH 4th with The March Howler!
FRIDAY:
At Bethany College Venue:
After School Program Special - includes library station & bouncy castle station* 3-6pm

Escape Rooms* 5-10pm
Clothes Swap 5-10pm
Paint Night* 7-9pm
Concession Area 5-10pm
Board Games Area 5-10pm
At Main Street / Hepburn Centre:
Supper Fundraiser by Seniors - 5-7pm
Crokicurl* - key signout - sign up at info booth
At Hepburn School Venue
At Main Street Venues:
Crokicurl & Fireside* - 11-2
Bowling - 11-2
Street Hockey Tourney 11-2
At Arena:
Minor Hockey Games - 10am, 11.15am
Arena Concession - all day
Full Ice Shinny - 330-6pm
Skating - 130-3pm
NEW: Evening Feature Event at Arena - SLEDGE HOCKEY GAME FEATURE EVENT - 7-9pm
Kaiser Tournament - 7-9pm
At Bethany Venue:
Breakfast - 830-1030am
Kids Carnival - 1-330pm
Escape Rooms* - 330-6pm
Clothes Swap - 830am-430pm
Coffee Area - hours as posted
Outdoor Fun Zone - snowshoes, snow soccer, and kicksleds - 1-5pm

Crokinole Tournament* - game zone - 830am-430pm

Board Games Area - 830am-430pm
At Arena:
Arena Concession - 430-830pm
Skating Carnival - 6-730pm
Crokicurl* - key signout - signup at info booth